Multiple Images and Videos
In February Instagram released a new feature to allow you to add up to 10 images and videos to a single Instagram post. They have recently exposed this feature to the API as a 'carousel' media type.
The plugin now supports this feature. To add a multiple image/video post to WordPress, use the %%carousel%% tags in the account editor. If you post single images and videos on Instagram also, then best to add this below your existing template tags.
You can control how the multiple images and videos are displayed in your WordPress post using the 'Carousel Style' setting in the 'Posting Settings' box when editing an account: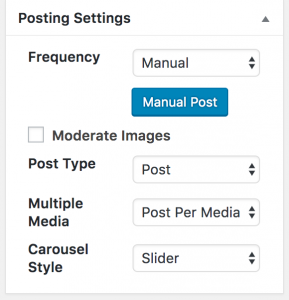 You have two options:
Slider – Displays all the images and videos in a slider that you can control with prev/next buttons, pagination dots and swipe/dragging
Individual Images/Videos – Displays images and videos one after the other like normal media
Here is an example of the slider posted from this Instagram post: