I'm pleased to announce that as of today, both Intagrate and Intagrate Lite are compatible with the Instagram Basic Display API, which is Facebook's replacement for the old Instagram API.
As of the 31st March 2020, Facebook will be completely shutting down the legacy Instagram API. It's the latest in a long line of changes to the Instagram API that has proved challenging for the plugins, but I'm glad the new Instagram Basic Display API allows the plugins to operate as normal.
Intagrate 1.9
If you have an active license key that has been activated on the site, you should see an update available on your WordPress site. Once you have updated the plugin to version 1.9 you should see a site-wide notice asking you to reconnect your Instagram accounts.
For the plugin to continue to post your Instagram images you will need to reconnect each account with Instagram to approve the access to the new API. You can do that buy navigating to Intagrate > All Accounts > Edit Account (for each) and then clicking 'reconnect' from the notice.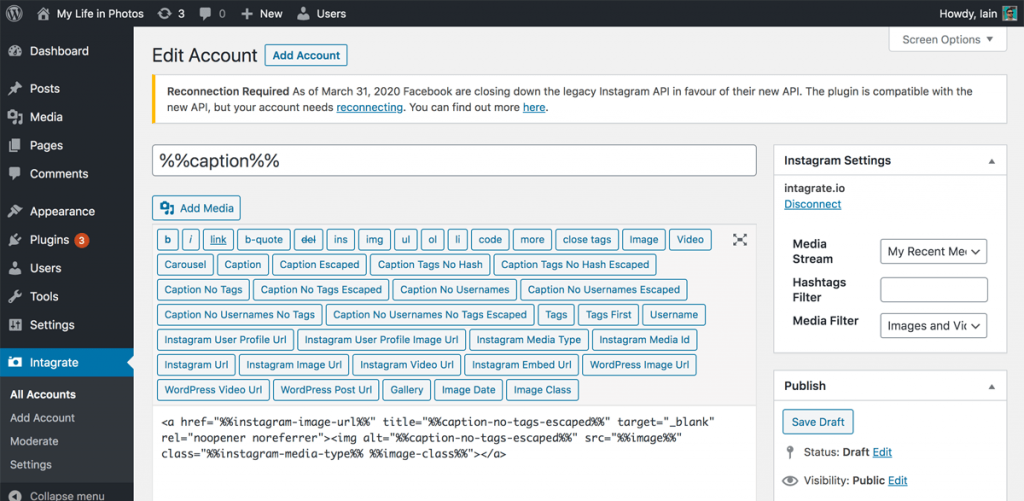 The plugin will then load the last 20 media items from your Instagram account in the media meta box, and will set them to 'ignore' so they aren't reposted which might cause duplicates.
This will not affect any posts, pages or custom post types already created with the plugin in the past, they will remain as is.
If you want to post any of the ignored media, you can set their status to 'pending' and the plugin will post them as normal.
Changes to the API
Sadly Facebook have deprecated the ability to get certain information about your Instagram media with the API. This means the plugin is now unable to do the following:
Import comments for media items
Get the number of likes for a media item
Display a map with the location of a media item
However, it will be possible to get this data for Business and Creator Instagram accounts in the near future. I'll come onto that later.
License Renewals
As with all Intagrate updates, they are only available to active license holders. If you don't have an active license or no longer have access to your receipt please get in touch.
Intagrate Lite 1.3
If you are a user of the free Intagrate Lite plugin, after updating you will also see a notice recommending to reconnect your account.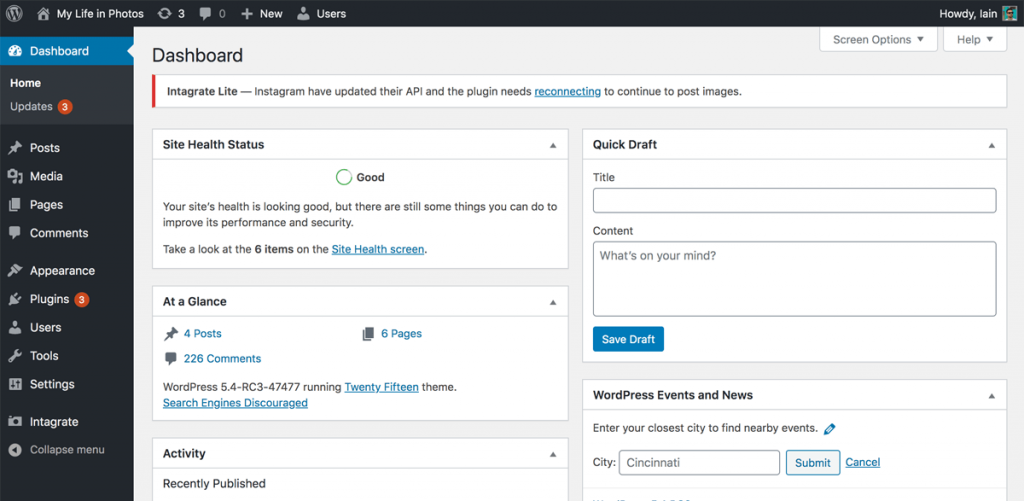 You can do this by navigating to Settings > Intagrate Lite and then clicking 'reconnect' on the settings page.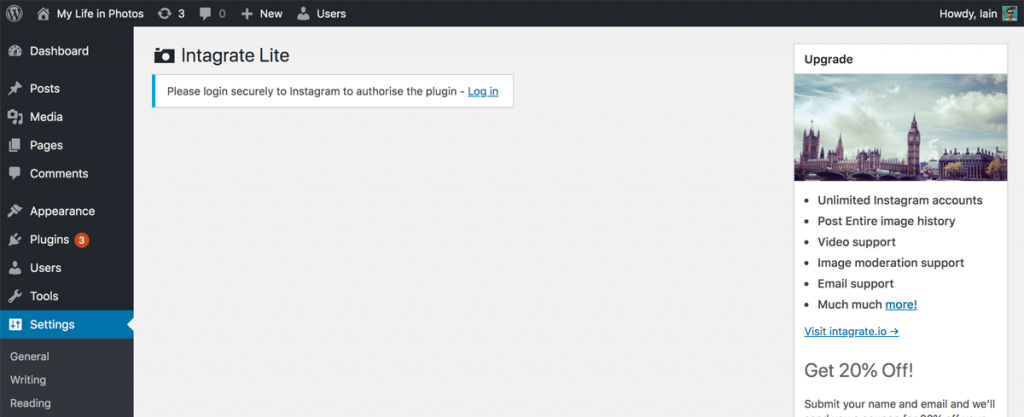 Business and Creator Instagram Accounts
As I mentioned earlier, Facebook's new API is limited in what it can do. However, they do have an API for 'Professional' accounts, ie. Business and Creator Instagram accounts, that gives access to more data.
I am working on an extended version of Intagrate to cater for these accounts.
Intagrate Professional will have the following exclusive features:
Create posts from any Instagram media with a specific hashtag
Create posts from any Instagram media that mentions your account
Ability to post your Instagram Stories to your WordPress site
Instagram comments to your WordPress post comments
Likes count for media
If you are interested in Intagrate Professional then please subscribe with the form below and I can keep you posted on its development and release. 🙌
Automatically Publish Instagram Media to WordPress
Intagrate is the best WordPress Instagram plugin for posting Instagram media to WordPress.